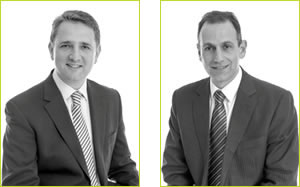 Tony Stone and Neil Butters felt that the time was right to form their own Company delivering the fundamental key principles of selling property at the highest possible price. With over 70 years experience between them spanning four decades and three recessions, your property could not be in better hands...
Tony has worked in Stanmore for 30 years dealing with Stanmore and surrounding areas and was a Director with an independent estate agent. Previously Tony worked for a large corporate. Neil has 35 years experience in estate agency. He was a very successful Regional Director of a large corporate servicing North London and Hertfordshire winning highly recognised awards at every level and achievements on a national scale.
Tony and Neil have the skill and ability to handle perhaps your largest asset and this will set Stone Butters Residential apart. 'You never get a second chance to make a first impression!'
Adopting a no-nonsense approach they are able to provide the client with the service they desire when entering into this hugely emotional and financial process.
We believe that clients wishing to sell do not require the `fluff` or `flannel` of an inexperienced advisor or unprepared agent. Vendors require fact, honesty and marketing strategies that achieve the best possible price and fulfil their requirements. Selling a property for the maximum price is a skill, not a claim that is made in hope!
Our view is that consistent and constant communication is vital and that swift and completely transparent feedback is essential. Having trust and confidence in your agent is crucial. The only way to determine the true value of a property is to thoroughly test the market and challenge the competition.
Valuations and expert opinion can be helpful in establishing an asking price for your home, but the ultimate selling price will be determined by the prospective buyers with whom we are able to communicate. On any web portal, in any newspaper and in any market, buyers will assess your home with a selection of similar properties in their price range and make judgement accordingly. It is critical that your home be competitive in price and appeal in comparison to other options that prospective buyers will contemplate.
Stone Butters Residential will achieve the greatest possible exposure for you within the market place and negotiate the optimum sale price.
Please contact Tony or Neil by phone on 020 8954 6688 or e-mail tony@stonebutters.co.uk or neil@stonebutters.co.uk